We include here a copy of the Google Reviews and Testimonials about Dr. Pabon, Julio E. Pabon, M.D., F.A.C.O.G., our Clinics, and our Staff in Sarasota and Bonita Springs. We are extremely grateful to our patients that have taken the time to share their experiences.  It is impossible to please everyone every time.  It is also impossible to be successful with every patient.  Dr. Pabon says: " the best patient is the one that appreciates all the efforts even when the outcome is not success." He also says: " the best patients understand the limits of the technology."  In the interest of integrity, we acknowledge not including the one "inaccurate" review.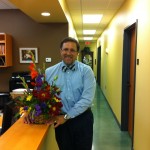 Reviews as of April 2014:
in the last week-
We are so thankful that we have picked Dr. Pabon! I'm now in my second trimester and owe it all to Dr. Pabon and his staff. We were told that our only option of getting pregnant was to use donor eggs. I just turned 39 but my FSH was in the 50's! Dr. Pabon carefully reviewed my records before our first meeting and recommended several lifestyle changes. Though we got pregnant after that, sadly we lost the baby at a very early stage. Because of our ages, we opted for IVF after the loss. We did three cycles without transferring, so we could bank enough embryos. Each cycle was managed by Dr. Pabon's office in the same consistent, efficient manner. Instructions were very clear and they didn't mind me repeating myself (all the medications!). The procedures were painless and Dr. Pabon called after each procedure to give me updates and see how I was doing. They are the best and I would not recommend anyone else!
a month ago-
Hi, my name is Shana and I recently have seen Dr Pabon, for a tubal reversal procedure, on march 7, and to start off I am incredibly thankful for finding him and his amazing staff! From the front office to the surgery center they all are very kind ,and a truly family oriented place, Dr. Pabon had exceeded my expectations by far, he went through every detail, in detail of what was going to happen and why, he even went as far as taking pictures of every step he did of the procedure to show how it all worked and looked. What really made this experience above and beyond that most doctors don't do is instead of never hearing from them again Dr Pabon himself made it to wear he took time out of his day to contact me not just once but everyday for 4 days to see how i was doing and if there were any concerns. I have never personally had a Doctor do this and as a patient it is nice to have a Doctor truly care. So to the Staff and Dr. Pabon A huge Thank you and i will have updates on when i get pregnant as well as more postings for those that are doctor shopping!!!!!! I cant express how Thankful I am that I found Dr. Pabon !!!!!! Hope this helps everyone looking at his website!!!!
a month ago-
Dr. Pabon and his staff are incredibly kind, caring, knowledgeable, and patient. Dr. Pabon took the time to explain everything: the process, what we could expect, the uses of different medications, different options, etc . The staff was also always willing to answer any questions we had at any time. There is a professional, yet family type atmosphere at this practice and I highly recommend them! I cannot say enough good things about this practice!
4 months ago-
Dr. Pabon is a wonderful clinician and has an amazing bedside manner. He is very caring and compassionate. He is also a brilliant Doctor and very knowledgeable in the newest research and techniques. He is very patient and has always spent as much time explaining everything as we needed. I would never choose another fertility doctor. He is the best and his staff is wonderful, caring, and compassionate as well! Thank you Dr. Pabon and staff
5 months ago-
Dr. Pabon is a miracle worker! He has been blessed with a gift from God to help people to fulfill their dreams of becoming parents when it seems like it will never happen. I have dreamed of being a mother for so long, and I never thought when the time came to try to have a baby that it would be so difficult. We were trying for a year when my OB/GYN had me try Clomid. I did 3 cycles of Clomid with no success. My cycles were so off (50-65 days) that time just kept ticking away with no success. I was feeling discouraged and frustrated. My OB/GYN recommended that I go to a fertility specialist. She recommended Dr. Pabon in Sarasota and another larger group in Sarasota/Tampa. I called the larger group thinking that larger may be better. They couldn't get me in for 3 months in Sarasota and 2 months for the Tampa office. This was not what I wanted to hear. I am a teacher who lives in Port Charlotte and I just started Summer break, so timing was important. I was so upset and again discouraged. I decided to call Dr. Pabon's office. They were able to get me in within a week and were extremely helpful with getting the paperwork started so that I could get in for my consultation appointment. When I went in for my appointment, Dr. Pabon was so warm and welcoming. He made me feel so comfortable and really took the time to help explain to me my options. On top of everything, he was leaving on a trip to Europe that week for a month. He made sure that before he left that I got the tests I needed done and an HSG. He outlined an entire plan for me so that I felt comfortable before he left. I had some tests and ultrasounds done while he was gone, and HE was the one who called me back FROM EUROPE to tell me the results. Not many doctors would do that! My husband and I went to see Dr. Pabon in June 2013, and we conceived through our first IUI at the end of July 2013! We are due April 21, 2014!!! I cannot say enough good things about Dr. Pabon and his staff! I HIGHLY recommend him!!!
7 months ago-
We realized creating a family is one of the most important things in our lives. To find the "best" doctor, we spent weeks of time combing though the online resources. We didn't care how far we had to go, we just wanted the best. We picked Dr. Pabon. He has one of the highest success rates for my age group as reported by CDC, and the most positive reviews by patients. As we get to know Dr. Pabon and his staff better, we are more convinced that we are in the best care available out there. Dr. Pabon is up to date on the latest researches and technologies; if you ask him about a newly published research, he knows it. He called me personally with my test results and checked on me after a procedure (I had polypectomy and thanks to his gentle touches, my recovery was super fast). His office is run extremely efficiently: they are very busy but always find time to answer my questions within the same day or even shorter. Several times, I emailed Ramona or Christine with my questions, and received answers from them within an hour! Dianne always gives me all her time and answers all my questions. When my husband had a question about a lab procedure, Ashley called him and spent a good 10 minutes answering all his questions. With Dr. Pabon and his staff, we know we have done all we could, to give ourselves the best chance of starting a family.
7 months ago-
My husband and I will be forever grateful to Dr. Pabon and his entire staff. After struggling with infertility for many years, we finally welcomed a baby girl into the world, thanks to the hard work of Dr. Pabon. I was referred to Dr. Pabon by a coworker, and I am so glad that I was. He is a remarkable physician, very caring and compassionate, and also up to date on current treatments. I love the fact that you get personal service directly from him. On test results day, I was always surprised that Dr. Pabon would make the phone call with results. When results were negative, he seemed truly upset about the news–he is the kind of doctor that is truly invested in your care. In addition to the kindness of Dr. Pabon, every single person that works in that office is a joy to be around (which is very needed when dealing with the stress of infertility!). Dr. Pabon, thank you for making our dreams come true and giving us the gift of a daughter!!
a year ago-
dr.pabon he is the best dctor in the wrlod i got pregnant on he is hand he is very frindly and he knwos what he is doing he has very good exprince he help , ihad amiscrige befor i see him .and naw im 37 yaers im 2 month pregnant .we are so happy me and my husband .this is first child.he is excellent person ,and he is staff to.he explin every thing to me for any purceder to be done i want thank him.trust me he is a blssed from god.he allways caer abut he is pations .we thank him.and god blessed him.
a year ago-
I cannot say enough good things about Dr Pabon and his staff! I sought him out after 3 miscarriages due to a genetic chromosome translocation. I had consulted with other doctors and very much felt like another number, but after a consultation with Dr Pabon I was very impressed and felt that he was up to date with all the latest research, and also a very kind and compassionate man. I traveled from Tampa to Sarasota for treatment. He was able to detect another issue which could have prevented me getting pregnant and at my request (purely due to financial issues), assisted me in finding someone within my insurance network to correct it, and continued to coordinate my care during that time. When that was done, I was back with Dr Pabon and have had nothing but a positive experience. I have never seen a doctor go above and beyond like he does – and I work in the medical field. I have paged him with issues on the weekend and he is prompt to reply, even going as far as calling medication in to my pharmacy when needed. I am now pregnant due to an IVF/PGS/FET cycle and will forever be grateful to him and his staff for their excellent care.
a year ago-
Fabulous! Thanks to the fantastic care and expertise of Dr. Pabon and his staff, I was able to conceive and deliver a healthy beautiful baby! I had the most amazing experience working with Dr. Pabon and his staff. I always felt that I received compassion, personal care, and detailed attention throughout both of my IVF procedures. Dr. Pabon and his staff were caring, compassionate, and seemed to be available with any needs or questions while consistently remaining on top of all of my medical needs. I always felt listened to, supported, and was given all the time that I needed with any questions/answers. I would absolutely recommend Dr. Pabon and his staff for anyone needing fertility assistance. Thank you Dr. Pabon and staff… I will forever be grateful to you all!
6 months ago-
The entire staff was so wonderful to work with, and so professional! Thank you for our little baby girl Kristina!! A true miracle!!
a year ago-
Thanks to Dr. Pabon and his staff, we were able to complete our family with the addition of our son and daughter (4 years later). They are so wonderful to deal with and are very knowledgeable. I recommend Dr. Pabon to everyone I know that is having fertility issues.
A Google User
2 years ago-
We have 2 beautiful, full term, completely perfect healthy baby boys, thanks to the good Dr. My husband and I were delighted to find Dr.J.Pabon. He and his staff are by far the most wonderful people to work with as we went through our experience trying to get pregnant. He and his staff were amazingly talented and knowledgeable. We highly recommend him over any fertility doctor in Tampa. He is worth the drive. We checked out several in Tampa before deciding on Dr.J.Pabon. They are fairly priced and the one on one attention is great. You do not have to see a dozen different doctors. Just Dr. Pabon. It is very personalized and we received the attention we felt we deserved. Not like the other clinic where you see who ever is on duty.