A tubal reversal expert performs affordable and successful tubal reversals.  Dr. Pabon is a great tubal reversal surgeon because he has the training and experience that is needed to perform delicate microsurgical tubal reversals efficiently and expertly.  He is truly a world class tubal reversal expert.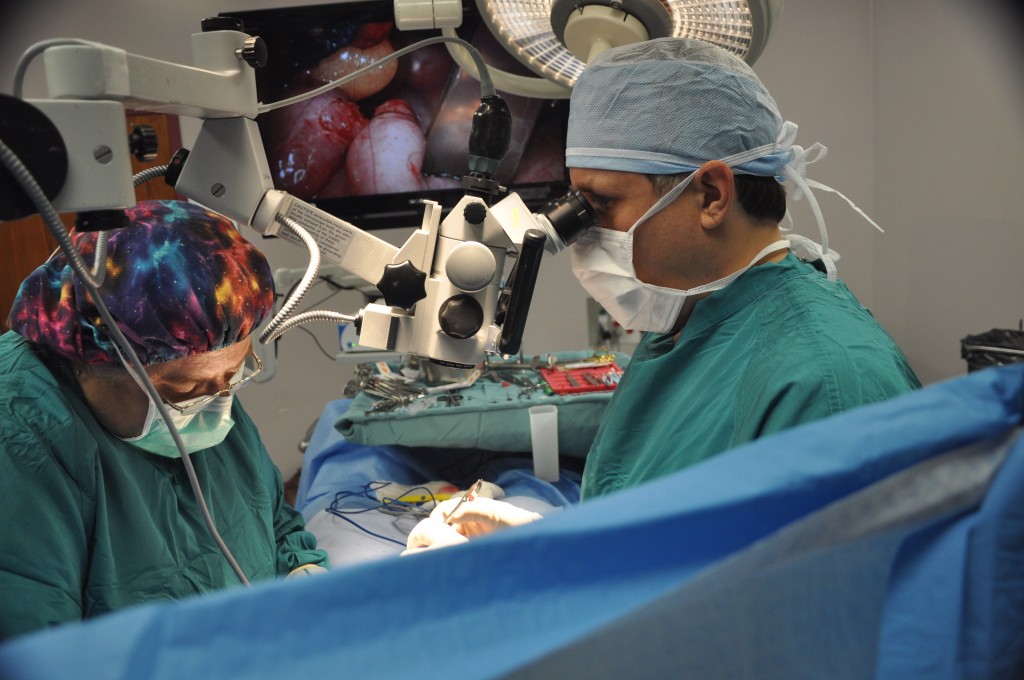 The Best Tubal Reversal Surgeon
Dr. Pabon is one of the most experienced tubal reversal microsurgeons in the world.  He has been performing this procedure since 1992. His advanced microsurgical techniques and general surgical philosophy allows for this complex surgery to be successfully performed in an outpatient setting. Dr. Pabon is a Board Certified Reproductive Endocrinologist and Infertility Specialist as well as a Board Certified Obstetrician and Gynecologist.
Dr. Pabon's Tubal Reversal Technique relies on microsurgical training that he perfected in formal microsurgical training in both his Residency training and during his post-graduate fellowship. Dr. Pabon attended Baylor College of Medicine in Houston, Texas where he completed his surgical rotation in the operating theaters of the late Michale E. DeBakey, M.D. who was one of the pioneers of cardiovascular surgery. Dr. Pabon received additional training in microsurgery during his Ob/Gyn residency at the Univ. of Texas Health Science Center where his very first tubal reversal resulted in a successful pregnancy in 1992.  He then was accepted to the prestigious Reproductive Endocrinology fellowship at The University of Louisville.  The University of Louisville was Dr. Pabon's choice because it was a very well balanced program with both IVF and extensive surgical training.  The University of Louisville is known worldwide for outstanding microsurgical training. During his post-graduate fellowship he received formal microsurgical training through the microsurgery laboratory training center at the University of Louisville where he trained side by side with vascular surgeons, neurosurgeons, and plastic surgeons.  Dr. Pabon is one of the most experienced reproductive microsurgeons in the world and one of the very few performing outpatient tubal ligation reversal with formal microsurgical training.
Read What Patients Say About Their Experience:
Rated: 5 Stars By 5 Users
Not all "Tubal Reversal Centers" are the same.  While we may not always have the lowest price, we always provide the highest level of service.  Dr. Pabon is a top Reproductive Endocrinologist and Infertility Specialist with extensive surgical and microsurgical training from the very best of the best schools and post graduate training centers in the United States.  He chooses to do his procedures in the Doctors Hospital Same Day Surgery Center in Sarasota, Florida where American standard of surgery and anesthesia are applied.  Doctors Hospital Same Day Surgery Center is fully accredited by The Joint Commission on Accreditation of Healthcare Organizations.  This surgery center is active in Orthopedics, Urology, Plastics, ENT, Gynecology, Neurosurgery, and Ophthalmology.  Three of Dr. Pabon's family members have had procedures there.  This speaks to the level of  expertise and trust that exists in Doctors Same Day Surgery Center in Sarasota.
A great tubal reversal surgeon not only has a broad experience (thousands of procedures), great success (greater than 70% pregnancy rates), but also extremely rare complications.  Dr. Pabon's record of safety is unsurpassed.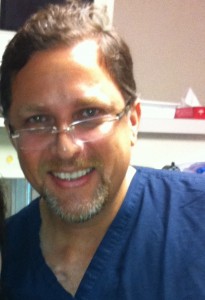 Safety Record:
Since starting his private practice in 1995, There have been no significant complications from the outpatient tubal reversal procedures.  Dr. Pabon reports only two minor incisional infections in 23 years.
A Brief Biology Review
Conception in humans occurs after ovulation. Once a mature egg is released from the ovary, it enters the fallopian tube through the end called the fimbriated end. The fimbriated end (or fimbria) leads to a very important section called the ampulla. Sperm reach the tube after passing the cervix and the uterus (womb) and continue their journey through the part of the tube (interstitial segment) within the muscular wall of the womb. The sperm continue to travel toward the ampulla by traveling through the longest part of the tube called the isthmic segment. At its end, the isthmic segment begins to dilate and becomes the ampulla. It is there fertilization occurs. The fertilized egg or zygote begins to divide as it travels down the fallopian tube toward the womb. Implantation in the womb occurs about the 5th or 6th day after fertilization.
Pregnancy is a wonderfully complex process that can be hampered by a variety of factors including low sperm count, abnormal or blocked tubes, and also by poor egg quality. For this reason, we highly recommend your partner have a semen analysis (sperm count) prior to you undergoing a tubal reversal procedure. Your chances of a successful pregnancy depend on several variables. These variables include the length of the tube available for repair, the part of the tube that had been previously blocked, and the age of the patient at the time of reversal.  Please review the maternal age and reproduction page, the general infertility page, as well as the semen analysis and male factor evaluation pages in this web site for more information.  In addition, patients considering a tubal ligation reversal must be aware aware that they have  the option of leaving their tubes blocked or tied and instead being treated with "in vitro" fertilization procedures.  Please review that process in the IVF sections of this web site.
Dr. Pabon's method of microsurgical tubal reversal is just that; a microsurgical procedure.   The procedure begins with the proper preparation of the patient.  Dr. Pabon encourages patients to develop a healthier lifestyle in order to prepare not only for the surgery, but for the pregnancy that occurs in well over 70% of our patients.
Patients need to understand that the Tubal Reversal is an elective outpatient procedure.  As such, it is important to try to decrease the risk of the procedure by trying to be as healthy as possible on that day.  One common problem is Obesity.  Obesity is known to increase the risk of any surgical procedure.  Specifically speaking about Tubal Reversals, the obese patient will have a higher risk of incision infections, hernias, blood clots, strokes and pulmonary complications that could be life threatening.  Obesity will also lower fertility rates and also complicate pregnancies with a higher risk of diabetes, pre-term birth, high blood pressure, and even increase the risk of death of the baby before birth.
With all the above in mind, expect Dr. Pabon to counsel you about your health in preparation for the surgery and the pregnancy.  Many patients choose to undergo the reversal without achieving an ideal weight.  Even so, Dr. Pabon has enjoyed a very long record as a microsurgeon with extremely rare complications.  The most common surgical complication is a wound infection.  This has occurred twice in 20 years. Obesity increases the risk of incision complications.  Other complications that are listed in the surgical consents are extremely rare occurring in less than once in several thousand surgical patients.
One common method of assessing a patient's relative obesity problem is the Body Mass Index (BMI).  The BMI takes into account a patients height and weight to come up with a single number that guides the clinician in counseling.  Here is are typical BMI charts: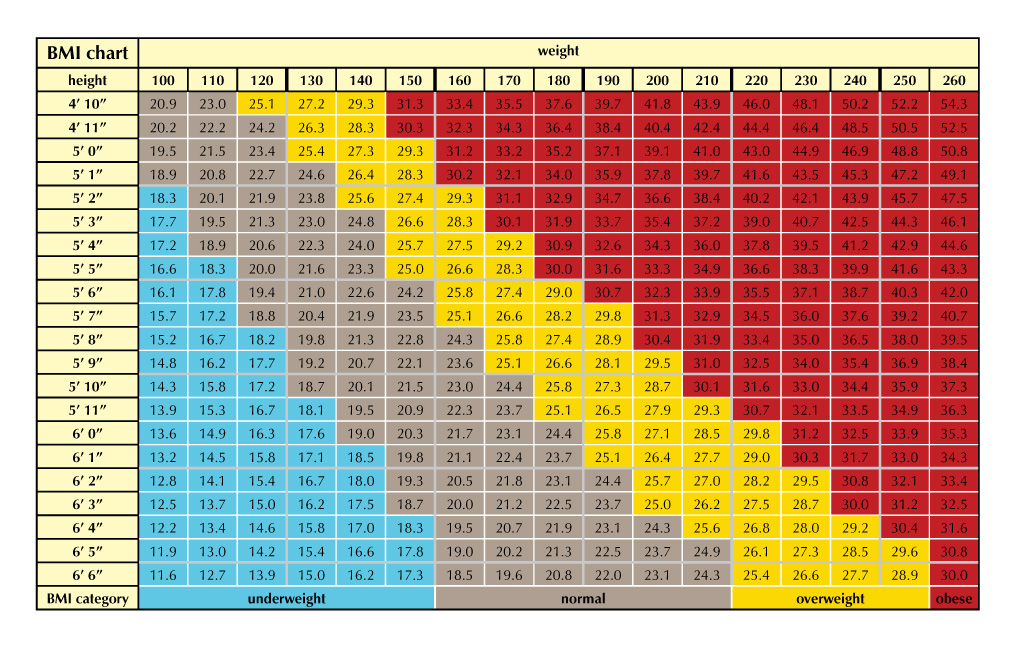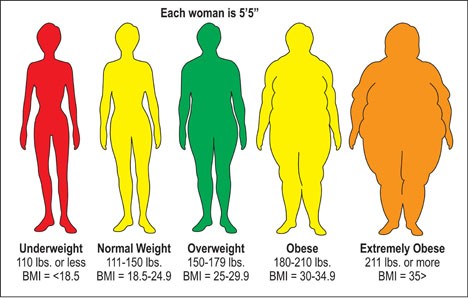 When you contact our offices for a possible elective (non-emergency) surgery, expect the staff to ask your height and weight.  Dr. Pabon will require that you commit to a healthy pregnancy by improving your health for the surgery and the pregnancy that will come soon.  It is in your best interest and that of your baby to not put yourself at higher risk of terrible complications from the tubal reversal and the pregnancy.
How can Dr. Pabon perform these surgeries on a weekly basis and have such rare surgical complications?
It all begins with preparation and ends with expert techniques.  The patients are asked to use an antibacterial soap like Dial soap or Phisohex to cleanse the abdomen during their daily showers for one week prior to the surgery.  Patients are also asked to shave the lower abdomen/pubic area with a new, clean razor that has been cleaned in hot water the week prior to the procedure and not to shave for 2- 3 days before surgery. Shaving on the day of surgery increases the risk of infections.  Patients receive a preventative IV antibiotic prior to the surgery.  The surgery is done through about a 2.5 to 3 inch incision and meticulous care is taken to have absolute control of  any bleeding points along the incision.  Careful preparation and surgical technique is the key.
Prior to surgery patients are fit with "active compression" stockings that aid the circulation of blood in the legs while the patient is having her tubal reversal.  This helps to prevent blood clots and pulmonary emboli.  The most important thing that can be done to prevent this potentially very serious complication is early ambulation.  Patients are encouraged to stand by their bed as soon as they go home or to the hotel and to walk about gently in order to encourage circulation.  Prolonged rest can increase the risk of clots.
The Microsurgical Tubal Reversal in Detail
The procedure begins with a thorough preparation of the planned site for the incision and the entire abdomen and upper legs after the patient receives general anesthetic by the anesthesiologist and CRNA.   The surgical team repeats the "time out" in order to verify the patient's identification for a final time as well as the administration of the preventative antibiotic, patient allergies, placement of the active compression stockings, and verification of the planned procedure.  A urinary bladder catheter is inserted by the circulating nurse.  The catheter will be removed prior to waking up the patient.
Dr. Pabon marks the planned incision site and measures 2.5 to 3 inches with a sterile pen.  The skin incision is made with a scalpel and carried through the fatty layer with monopolar and bipolar cautery in order to have absolute control of any bleeding points.  When the fascial layer is reached, it is usually incised transversely  and then separated from the underlying rectus abdominis muscles.  The peritoneum is just beneath these muscles.  The peritoneum is entered very carefully and then a small self retaining retractor is placed to hold the small incision open during the procedure.  The  pelvic area is examined and attention is turned to the fallopian tubes.  The operating microscope is brought in at this time and the microsurgical portion of the procedure begins.
Dr. Pabon then uses microsurgical techniques and magnification in order to remove the scarred obstruction and develop the matching tubal lumens. Dr. Pabon's technique is uniquely meticulous as he is one of few surgeons doing this procedure with a microscope.  He develops and separates the layers of the tubes in order to approximate them exactly.  He commonly uses "hydro-disection" to identify the blocked tube beneath scar tissue.  Once the lumens are well defined, Dr. Pabon uses a lacrimal probe or a micro-irrigation catheter in order to confirm that the entire length of the tubes are open.  A 6-0 suture is used to bring the supporting tissue beneath the tubes together.  This removes tension from the anastomosis.  The lumen of the tube is then brought together with extremely fine sutures (8-0 or 9-0).  The sutures are placed in three or four corners.  The outer tissue called the serosa is then brought together with 8-0 suture in order to further support the anastomosis.
The retractor is removed and then Dr. Pabon reinspects the entire course of the incision.  A local anesthetic is placed in the incision beneath the fascia. The incision is closed very meticulously.  The skin is also injected with a local anesthetic.  The urinary catheter is removed, anesthesia is reversed, and the patient is taken to the recovery room where the great majority of patients are very comfortable and are discharged home or the hotel within 90 minutes.
PLEASE CLICK AT THE BOTTOM OF THIS PAGE IF YOU ARE INTERESTED IN VIEWING ACTUAL SURGERY PHOTOS.  THE PHOTOS ARE FOR ADULTS ONLY.  THEY SHOW THE STEPS IN "Dr. Pabon's Method of Tubal Reversal."
Dr. Pabon is an expert tubal ligation reversal  microsurgeon:
As mentioned above, Dr. Pabon has been performing this procedure since 1992 without any significant problems.  In that time, he has developed special techniques to develop the openings of the tubes as well as techniques to minimize surgical discomfort.
After I heal from the surgery, what is the one possible complication that can happen?
A future ectopic or tubal pregnancy is a potential complication of this procedure.  We are happy to report that only 1.5-2% of our pregnant patients have had ectopic pregnancies after a tubal reversal.  All patients are asked to keep a close eye on their menstrual cycles and to have a blood pregnancy test if the menstruation is early or late or if it is different in any way.  An early pregnancy can cause an abnormal bleeding pattern.  If an ectopic or tubal pregnancy is identified early, it can be treated with medication (Methotrexate) instead of surgery.  All out of town patients are strongly advised to have an established relationship with a local OB/GYN prior to traveling to Sarasota for the surgery.
Affordable Tubal Reversal Surgeries:
Our fees for the outpatient tubal reversal surgery are very affordable.  We are able to provide this outstanding service at these low prices due to Dr. Pabon's efficiency and surgical volume.  Dr. Pabon has been performing outpatient tubal reversals since 1992.  Only one patient in 1994 required an overnight stay in the Hospital due to nausea.  The fees quoted are for the pre surgical visit, the surgery, and the post surgical care.  These fees do not cover any expenses that the patient may incur in the event of an unexpected  and very rare hospitalization.  Please note that occasionally Dr. Pabon may discover an abnormal looking tissue or cyst.  He may be required by the standards of surgical care to send a sample of the abnormal tissue to the pathology department for analysis.  If this happens, the pathology department would bill the patient at a later date.  Pathology fees are the responsibility of the patient.
Here is a summary of our Tubal reversal fees:
The lowest possible fee of $4,250 applies to patients with a BMI less than 27 and no prior lower abdominal incision (the ligation incision excluded).  A BMI of 27 to 29.9 or one prior low abdominal incision raises the fee to $5,500.  If the patient has had a prior "tummy tuck" or abdominoplasty the tubal reversal fee is $7,500 even if the BMI is low.  The tubal reversal fee for patients with 2 or more prior low abdominal incisions or a single "tummy tuck" is $6,500.  Dr. Pabon will recommend that obese patients reduce their BMI near 30 prior to surgery. Please contact our offices with your BMI and prior surgical history so we may confirm your personal pricing.  
The surgical fee is all inclusive for the following:
Review of old operative notes and pathology results
Pre-operative visit
Surgery
Surgery Center Fees
Outpatient recovery
Post-operative calls or visits
Performance of any of the components above in any other facility outside Dr. Pabon's office or Fertility Center and Applied Genetics of Sarasota Florida does not result in any type of credit to the patient.  The Tubal Reversal fees do not include possible additional pathology or lab tests that could rarely be needed in the surgery center.
The global fee varies from $4,250 up to $7,500 for patients in higher risk categories . Higher risk categories include obese patients and patients with prior abdominal surgeries or other conditions that may predispose the patient to intra-abdominal or incisional scar tissue.  Obese patients are encouraged to loose weight in preparation for surgery and pregnancy.  A higher weight places the patient at higher risk of surgical complications and increases the risk of the subsequent pregnancy.
Patients are encouraged to have routine pre-conception laboratory tests through their primary care doctor or Ob/Gyn. The routine prenatal panel includes a CBC, Blood type and antibody screen, Rubella and Varicella Titers, HIV Screen, Hepatitis B Surface antibody, Hepatitis C Antibody, RPR, and a thyroid screen (TSH).  These tests are recommended but not "required" before the reversal.  They should be done before attempting conception.  For example,  if a patient discovers that she has HIV or Hepatitis, she may choose not to have a reversal and not to try to conceive due to the risks to the baby.  Another example is is the patient discovers that she is at risk of having a baby with a genetic disease like cystic fibrosis, she may choose to do "in vitro" fertilization and pre-implantation genetic testing of the embryos.
Prior to trying to conceive patients should consider having tests for "recessive" conditions like Cystic Fibrosis, Spinal Muscular Atrophy, and others.  A convenient and affordable way of testing for these conditions prior to trying to conceive is through the Counsyl blood test.  Please ask us or your Ob/Gyn to draw your blood for this if you choose to do these tests.  We encourage you to read the very important information on www.Counsyl.com prior to trying to conceive.  You may request a test kit from Counsyl and do a saliva test from home.
Please consult with your obstetrician prior to trying to conceive.  He or she will review the need for a healthy lifestyle and nutrition before attempting pregnancy.  You should also address your weight as heavy patients have much riskier pregnancies.  Your obstetrician should do standard prenatal blood tests as well as offer you pre-conception genetic screening for cystic fibrosis, spinal muscular atrophy and other conditions as mentioned above.  In our offices, we screen our patients through a company called Counsyl Genetics.  Counsyl Genetics does a very comprehensive pre-conception screen at very affordable prices.
Finally and very importantly, all patients are strongly encouraged to have their partners do a sperm count test.  This is important because a tubal reversal may not be the best choice of procedures if the sperm count is low.  Patients with a "male factor" problem should consider IVF instead.
We are honored that you have considered our clinic for your procedures.  Please do not hesitate to call or email with any questions.  Dr. Pabon will review the records of your tubal ligation for free.
---